Crime Scene Documentation
Thinking About Becoming A Forensic Science Student?

Find a Forensic Science School
---
Crime Scene Documentation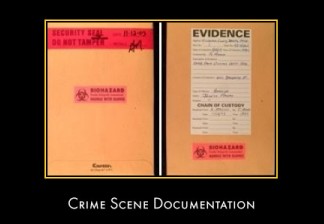 Documentation of the scene begins with the first responder. Police officers are taught the importance of taking notes from the time of arrival. The crime scene investigator documents the scene in the form of still and video photography. Sketches are completed at the scene to illustrate relationships between articles of evidence not easily depicted by photography. The following methods of crime scene documentation are used to provide an accurate representation of the scene.
---
Note Taking
---
It is important that the responding officers note the condition of the scene as it existed upon their arrival. Note taking should be continuously updated during the course of the investigation.
Investigator's notes might include such factors as:
Victim & Witness Statements
Who Was Present at The Scene
Lighting Conditions
Open Doors & Windows
Odors
Date & Time Indicators e.g. Newspapers, Mail
General Descriptions of The scene & Surrounding Area
---
Photography and Videography
---
The primary means of crime scene documentation is still photography. Police officers should have an understanding of the importance of keeping the scene preserved, and not moving anything until it is photographed. The photographer must be able to testify that the photograph is a true and accurate representation of the scene at the time the photograph was taken. Crime scene photographs should reveal a detailed, chronological story of the scene.
---
Sketching
---
Photographs may not always depict spatial relationships between objects; sketches are used to supplement photographs. Sketches can more easily depict the overall layout of the scene and the relationships between objects. Investigators usually complete hand-drawn, rough sketches while at the crime scene. These sketches contain all the necessary information for the investigator to subsequently complete a finalized version.
For courtroom presentation, hand drawn sketches may be converted using computerized programs such as computer aided design (CAD), which provide a dynamic, professional appearance.
Types of sketches may include:
Entire Scene - Complete Scene With Measurements
Bird's-Eye View – Overhead View of The Scene
Elevation Sketch
Cross Projection Sketch
Three Dimensional Sketch
(Information provided by the Department of Justice)
---
Read FBI Profiling Classics on Kindle
---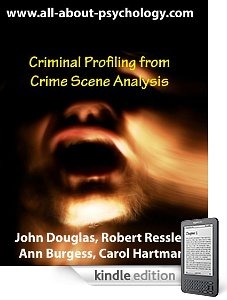 This special Kindle collection consists primarily of the landmark articles written by members of the Behavioral Science Units, National Center for the Analysis of Violent Crime, at the FBI Academy. These seminal publications in the history of FBI profiling were released by the U.S. Department of Justice as part of the information on serial killers provided by the FBI's Training Division.
See following link for full details.
---
Go Back To The Crime Scene Info Page
Go From Crime Scene Documentation Back To The Home Page