Forensic Pathology
Thinking About Becoming A Forensic Science Student?

Find a Forensic Science School
---
Forensic Pathology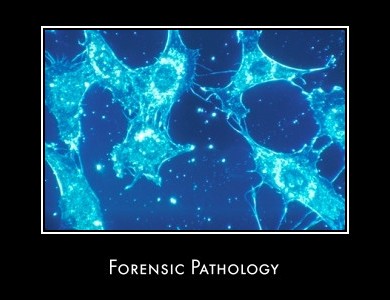 ---
What is Forensic Pathology?
---
Pathology is a medical specialty concerned with the study of disease. The main way pathologists study disease is by conducting an autopsy i.e. a comprehensive surgical examination of the deceased.
By definition, therefore, forensic pathology primarily relates to the study of disease within a legal context.
What Does A Forensic pathologist Do?
The roles and responsibilities of the forensic pathologist include:
Determining cause of death
Forensic examination of the body (external/internal/clothing)
Identifying absense/presence of disease from tissue samples
Examining post mortem wounds & Injuries
Collaborative evidence collection e.g. blood, hair, semen samples passed to criminalists, toxicologists etc for specialist analysis
Collaborative investigation e.g. body identification work with forensic odontologists (dentists) and physical anthropologists.
Acting as an expert witness in civil/criminal proceedings
Medical/Legal Authorities
In respect of enquiries into suspicious, sudden or unexpected deaths, forensic pathologists will often work in conjunction with the appointed medical/legal representative of the area in which the investigation is taking place. In England and Wales this will be the Coroner, in Scotland the Procurator Fiscal and in the United States, the Coroner or the Medical examiner.
Emerging Role
The American Academy of Forensic Sciences notes that examining patterns of injury in the living, as well as the deceased is emerging as another very important role for the forensic pathologist. Referred to as clinical forensic-pathology this role is particularly relevant in child and elder abuse cases.
---
See following link for information on the role of the medical examiner.
---
Essential Reading
---
Forensic Pathology: Principles and Practice by D. Dolinak, E. Matshes & E. O. Lew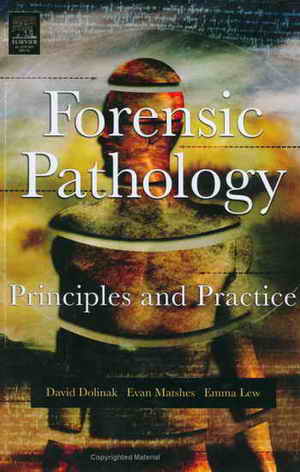 Book Description
Forensic-Pathology: Principles and Practice is an extensively illustrated reference book that contains more than 1800 color photographs accompanied by well-considered text that thoroughly explains representative topics, and also provides abundant, up-to-date references for further reading. This well-written volume uses a case-oriented format to address, explain and guide the reader through the varied topics encountered by forensic pathologists.
It will benefit not only the experienced forensic pathologist, but also the hospital pathologist who occasionally performs medicolegal autopsies. Doctors in training and those law enforcement officials investigating the broad spectrum of sudden, unexpected and violent deaths that may fall within the jurisdiction of medicolegal death investigators will also find this an invaluable resource.
Includes:
Large, colorful photographs which beautifully illustrate the concepts outlined in the text. Sample descriptions of pathological lesions which serve to aid pathologists in reporting their findings to law enforcement agencies, attorneys, and others involved in investigations of sudden death. Do and Don't' sections at the end of each chapter which provide guidance for handling the types of cases examined within preceding sections.
See following link for more details:
Forensic Pathology: Principles and Practice
UK Visitors Click Here
---
Quality Forensic-Pathology Links
---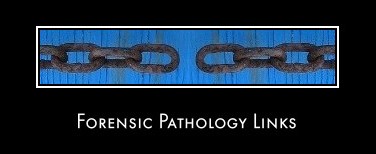 Access a range of quality Forensic-Pathology related websites via the following link.
---
Pathology Pictures
---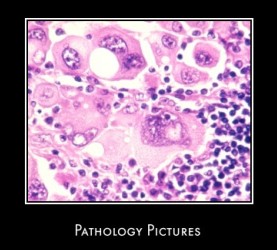 High quality pathology pictures that you can use for free in your science projects, presentations, lectures, teaching materials etc. You can access the pictures via the following link.
---
Read FBI Profiling Classics on Kindle
---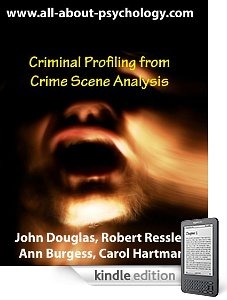 This special Kindle collection consists primarily of the landmark articles written by members of the Behavioral Science Units, National Center for the Analysis of Violent Crime, at the FBI Academy. These seminal publications in the history of FBI profiling were released by the U.S. Department of Justice as part of the information on serial killers provided by the FBI's Training Division.
See following link for full details.
---
Go From Forensic Pathology Back To The Home Page