Environmental Forensics
Environmental Forensics
Thinking About Becoming A Forensic Science Student?

Find a Forensic Science School
---
What is Environmental-Forensics?
---
In their recently published book Environmental Forensics
: Issues in Environmental Science and Technology, Ronald Hester and Roy Harrison state that "environmental forensics is a combination of analytical and environmental chemistry, which is useful in the court room context. It therefore involves field analytical studies and both data interpretation and modelling connected with the attribution of pollution events to their causes."
The International Society of Environmental-Forensics notes on its website that its organisation and, therefore, environmental- forensics in general has "grown out of the need for a platform to present scientific investigations that address environmental contamination subjected to law, public debate, or formal argumentation as well as the evaluation of the basic science that serves as underpinnings to those activities."
In respect of informing the discipline, it is also useful to note that The International Society of Environmental-Forensics highlights a number of areas that are considered integral to the development of technical courses which focus on scientific and technical information, data, and critical analysis. These include:
Analytical Chemistry, including analytical techniques that provide definitive, quality results for analyses that are conducted to answer litigious environmental contamination questions.
Geochemistry, including chemistry and physics of soil, water and air with respect to potential interactions with contamination.
Atmospheric Chemistry, including occurrence, alteration, fate, transport and modeling of chemicals in the atmosphere.
Environmental Fate Assessment, including partitioning and transformation of contaminant components between and within environmental media.
Environmental Transport Assessment, including geologic, hydrogeologic, oceanographic and meteorological controls on the migration or movement of contamination.
---
Environmental-Forensics Links
---
Access a range of quality environmental-forensics related websites via the following link.
---
Essential Environmental Reading
---
Introduction to Environmental-Forensics by Brian L. Murphy & Robert D. Morrison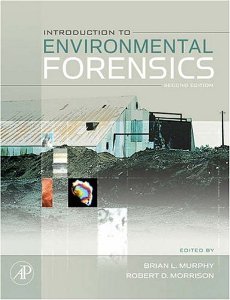 Book Information

Introduction to Environmental-Forensics helps readers unravel the complexities of environmental pollution cases. It outlines techniques for identifying the source of a contaminant release, when the release occurred, and the extent of human exposure. Written by leading experts in environmental investigations, the text provides detailed information on chemical "fingerprinting" techniques applicable to ground water, soils, sediments, and air, plus an in-depth look at petroleum hydrocarbons.

It gives the environmental scientist, engineer, and legal specialist a complete toolbox for conducting forensic investigations. It demonstrates the range of scientific analyses that are available to answer questions of environmental liability and support a legal argument, and provides several examples and case studies to illustrate how these methods are applied.

See following link for more details:

Introduction to Environmental Forensics, Second Edition
UK Visitors Click Here
---
Read FBI Profiling Classics on Kindle
---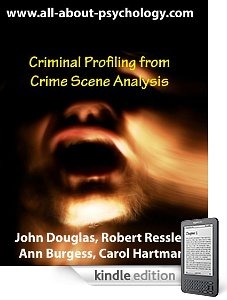 This special Kindle collection consists primarily of the landmark articles written by members of the Behavioral Science Units, National Center for the Analysis of Violent Crime, at the FBI Academy. These seminal publications in the history of FBI profiling were released by the U.S. Department of Justice as part of the information on serial killers provided by the FBI's Training Division.
See following link for full details.
---