Forensic Animation
Forensic Animation
Thinking About Becoming A Forensic Science Student?

Find a Forensic Science School
---
What is Forensic Animation?
---
Forensic-animation refers to the use of audio-visual simulations within a legal context. Most commonly in the form of computer generated 3D graphics, applications of forensic-animation include virtual recreations of accidents and crime scenes.
Writing for expert law, Stuart Gold notes that there are in fact, two types of forensic-animation, namely; descriptive forensic- animation and scientific forensic-animation. "Descriptive forensic-animation illustrates the testimony of the expert. Scientific forensic-animation takes actual dynamics and physics into account by the program itself."
Gold also makes the point that "Unlike animation created for the entertainment industry, the forensic process depends on the collaboration between the animator and a designated expert. It is often used to show something that couldn't be visualized in any other way."
Forensic-Animation Video
Short video highlighting the various uses of forensic-animation.
---
Quality Links
---
National Public Radio: Talk of The Nation
Hosted by Ira Flatow this broadcast of Talk of the Nation discusses the medicolegal purposes and artistic merits of forensic-animation.
Click Here To listen to this insightful broadcast
Visual Legal Persuasion
Visual Legal Persuasion is a blog for legal professionals looking for a competitive advantage in courtroom litigation through effective persuasion tools and methods.The blog features ideas, technology, legal analysis and other resources from a team of legal and forensic experts as well as from a community of top litigators, trial consultants, jury experts, researchers and scholars.
Click Here To Visit Visual Legal Persuasion Blog
---
Read FBI Profiling Classics on Kindle
---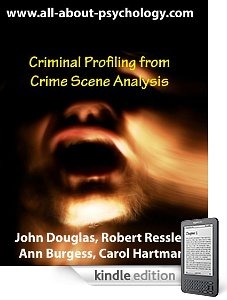 This special Kindle collection consists primarily of the landmark articles written by members of the Behavioral Science Units, National Center for the Analysis of Violent Crime, at the FBI Academy. These seminal publications in the history of FBI profiling were released by the U.S. Department of Justice as part of the information on serial killers provided by the FBI's Training Division.
See following link for full details.
---
Go From Forensic Animation Back To The Home Page