Double Pane Window Possibly Shot
by Kenny
(Upsate South Carolina)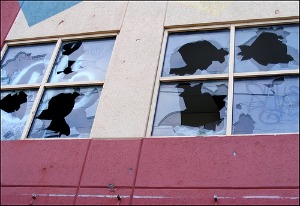 Photo Credit: Robert Anthony Provost
It was 7 pm a window in a business shattered. This window each pane was aprox 3/8" thick with an equal size of air space between the 2 panes. The outer pane had a hole bigger than a silver dollar with a mushroomed outward edges.

Upon closer examination there was a very slight greyish film on the outer side of the inner glass which had no damage of any kind.

A complete intensive search of the area infront and to the sides and also above the broken window did not reveal any signs of a bullet or anything else that could have broken the window.

Someone said that a glass marble had been found by someone (but not confirmed ).

Also a complete search of areas in line of sight of the window did not reveal any spent cartridge (assuming a semi auto pistol or rifle might have been used ).

A car parts store directly across from the afore mentioned business claim that both there front and back doors were open and they heard nothing in the way of gunfire.

The questions that I have about this are:

Could a bullet vaporize on impact with the outer pane of glass and when mushrooming outward causing the glass to mushroom in an outward direction?

If infact it was a marble that could have been shot from a sling shot wouldn't it have shattered the marble beyond recognition?

There was no lead of any kind found between the panes of glass or anywhere else, other than the greyish almost invisible film left on the second pane.

Any help in this matter would be greately appreciated.

I did do a swab of the greyish matter with a cotton swab but couldn't see any residue on my swab but it is on the swab as it's gone from the window now.