Designing A Laboratory Project in Forensic Science
by Francis
(London, UK)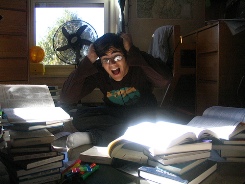 Photo Credit: Brandon Cirillo
I am a 2nd year undergraduate student who needs to submit a preliminary plan for a 3rd year undergraduate investigative laboratory project in Forensic Science. My course is chemistry with Forensic Science.


The project is intended to involve approximately 25 days of lab work plus the usual data analysis, write up and a presentation. The academics at my college are looking for the students to initiate the projects.

Unfortunately I am struggling to think of a suitable project. Are there resources, preferably on the web, that may help me to design a suitable project? Alternatively, is there a website with details of past projects on a suitable scale (many universities seem to require third year projects and hence there must be many reports out there).

Obviously 25 days of lab work should allow for an interesting investigation but the project is only part of my course and can not be so open ended that the lab work can not be concluded by the end of the 25 days. Thank you in advance for any guidance offered.
Click here to read or post comments