Dave Webb BSc (hons), MSc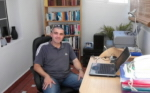 Welcome to MyPlace on the All About Forensic Science Website. Please make yourself at home and have a good look around.
---
I have a first class honours degree in psychology and a Masters in Occupational psychology from the University of Sheffield (UK). For a number of years, I was a lecturer in psychology at the University of Huddersfield (UK).
In 2003 I moved to sunny Spain with my family, where I now work as a distance learning tutor and research dissertation supervisor.
---
Because of my background in psychology, I find forensic psychology particularly interesting. It was as a result of my research activity that I ended up pursuing an interest in forensic science. Since 2000, I've been involved in collaborative research with teams of forensic odontologists (dentists) in the UK, US and Canada.
---
(My Collection of Forensic Websites & Other Online Resources)
---

(My Forensic Library)
---

Please note that the following form is the one that I use to update my journal. Any journal entries I make using this form will appear as links just below the heading "Read My Journal Entries." If you would like to read my journal entries simply click on the link that interests you and please feel free to leave any comments you have.

David Webb's MyPlace Journal
A Place For Me To Share What's On My Mind
---

My Kind of Music
THE STONE ROSES: ELEPHANT STONE
---

My Kind of Movies
---

I Love This YouTube Video
---
Show Your Page Off
Don't be afraid to show your page off. Click on the link below and in the Tell A Friend box that appears just enter your name, e-mail address, your friends e-mail address(es) and any comments you'd like to add. Then just hit the Tell A Friend button. Your friend(s) will be sent your message along with a direct link to your page.
---
Looking For Something In Particular? Try Google Search
---
Go From My Forensic MyPlace Back To The Home Page