Medicolegal Death Investigation Investigative Tools and Equipment
Medicolegal Death Investigation Investigative Tools and Equipment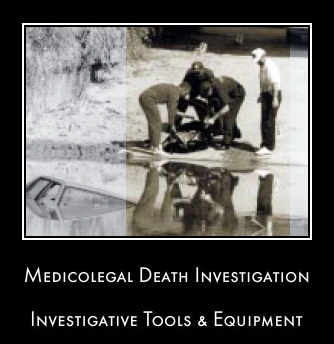 Thinking About Becoming A Forensic Science Student?

Find a Forensic Science School
1. Gloves (Universal Precautions).
2. Writing implements (pens, pencils, markers).
3. Body bags.
4. Communication equipment (cell phone, pager, radio).
5. Flashlight.
6. Body ID tags.
7. Camera--35mm (with extra batteries, film, etc.).
8. Investigative notebook (for scene notes, etc.).
9. Measurement instruments (tape measure, ruler, rolling measuring tape, etc.).
10. Official identification (for yourself).
11. Watch.
12. Paper bags (for hands, feet, etc.).
13. Specimen containers (for evidence items and toxicology specimens).
14. Disinfectant (Universal Precautions).
15. Departmental scene forms.
16. Camera--Polaroid (with extra film).
17. Blood collection tubes (syringes and needles).
18. Inventory lists (clothes, drugs, etc.).
19. Paper envelopes.
20. Clean white linen sheet (stored in plastic bag).
21. Evidence tape.
22. Business cards/office cards w/phone numbers.
23. Foul-weather gear (raincoat, umbrella, etc.).
24. Medical equipment kit (scissors, forceps, tweezers, exposure suit,scalpel handle, blades, disposable syringe, large gauge needles,cotton-tipped swabs, etc.).
25. Phone listing (important phone numbers).
26. Tape or rubber bands.
27. Disposable (paper) jumpsuits, hair covers, face shield, etc.
28. Evidence seal (use with body bags/locks).
29. Pocketknife.
30. Shoe-covers.
31. Trace evidence kit (tape, etc.).
32. Waterless hand wash.
33. Thermometer.
34. Crime scene tape.
35. First aid kit.
36. Latent print kit.
37. Local maps.
38. Plastic trash bags.
39. Gunshot residue analysis kits (SEM/EDS).
40. Photo placards (signage to ID case in photo).
41. Boots (for wet conditions, construction sites, etc.).
42. Hand lens (magnifying glass).
43. Portable electric area lighting.
44. Barrier sheeting (to shield body/area from public view).
45. Purification mask (disposable).
46. Reflective vest.
47. Tape recorder.
48. Basic handtools (boltcutter, screwdrivers, hammer, shovel, trowel,paintbrushes, etc.).
49. Body bag locks (to secure body inside bag).
50. Camera--Video (with extra battery).
51. Personal comfort supplies (insect spray, sun screen, hat, etc.).
52. Presumptive blood test kit.
(Information provided courtesy of the Department of Justice)
---
Read FBI Profiling Classics on Kindle
---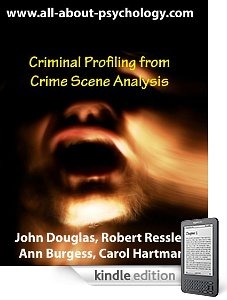 This special Kindle collection consists primarily of the landmark articles written by members of the Behavioral Science Units, National Center for the Analysis of Violent Crime, at the FBI Academy. These seminal publications in the history of FBI profiling were released by the U.S. Department of Justice as part of the information on serial killers provided by the FBI's Training Division.
See following link for full details.
---
Go Back To The Main Medicolegal Death Investigation Page
Go To Homepage From Medicolegal Death Investigation Investigative Tools and Equipment