Forensic Anthropology Questions
Forensic Anthropology Questions
Thinking About Becoming A Forensic Science Student?

Find a Forensic Science School
---
HIGHLY RECOMMENDED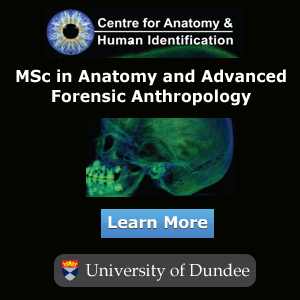 MSc in Anatomy and Advanced Forensic Anthropology
The internationally renowned Centre for Anatomy and Human Identification (CAHID) at the University of Dundee has launched a unique new postgraduate programme targeting those who aspire to a professional career in the field of forensic anthropology.
The MSc in Anatomy and Advanced Forensic Anthropology offers advanced training in subject areas which meet current professional requirements but which are not collectively available at any other institution in the world.
Along with the opportunity to gain advanced skills, the new MSc programme offers work placement internships for the best students. The transition from the classroom to the practical world of this subject is often a difficult one to achieve and CAHID has utilised its vast professional network to identify partners who are prepared to offer this unique opportunity because of the quality of the training that the student will receive. This is a vital and unique step towards establishing a professional and sustainable career in the discipline.
Click Here For More Information.
---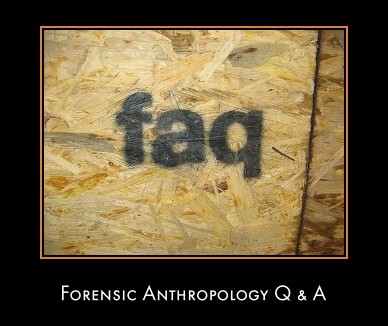 (Photo Credit: Andreas Kepplinger)
Welcome to the Forensic-Anthropology Questions & Answers page. This page is designed to provide easy access to the most frequently asked forensic anthropology questions posted on the Forensic Q & A section of the website.
Don't forget that if any of the topic areas and answers featured below don't address what you're looking for, you can always post your own forensic anthropology query via the Forensic Q & A link above.
---
Great Places To Study Forensic Anthropology
"The University of Tennessee has a great forensic anthropology program. However, the actual degree is in biological anthropology with a concentration in forensic anthropology. That would give you a more broad area of study so job opportunities would be less rare."
"I go to Mercyhurst College and I am in the program for Forensic Anthropology Concentration undergrad, we are suppose to be ranked number 3 for forensic anthro in the states, only because University of Pittsburgh and University of Tennessee are #1 and #2, it's a very difficult major, hope you enjoy chemisty =], oh we also offer a masters in Anthropology."
"I recently graduated from Western Carolina University in North Carolina, and I minored in Forensic Anthropology. The WCU Forensics department is nearly one of a kind, and is one of the fastest growing departments at the university. WCU has one of two human remains decomposition facilities in the world; the other is at the University of Tennessee."
---
Forensic Anthropologist Salary
"A recent nationwide survey indicates the following as salary ranges.
MA/MS degree: $40-50,000
PhD degree: $60-85,000
Although note that there are only about 100 active forensic anthropologists in the USA."
---
Forensic Anthropology Career Advice
"I would say that possible Undergrad majors in order to become a forensic anthropologist would be Human Biology or preferably Physical Anthropology which will need to cover hominid physiology, anatomy, other core anthropology classes and social anthropology among others.
Then obtain your masters and preferably your Ph.D specializing in forensic anthropology keep in mind this is a long arduos career but it is rewarding. Also it is not a full time job as most forensic anthropologists work with colleges and provide consultation to officers and such, but if this is what you want to do go for it and never give up."
"I cannot give you an unbiased opinion but can give you some advice as a longtime forensic scientist and forensic educator. You should seriously reconsider your selection of a career. Virtually no one in the US works full time as a forensic anthropologist. Almost all forensic anthropologists are professors of biological or physical anthropology with PhDs.
You might consider crime scene processing/reconstruction as an alternative career.
If you decide to go ahead, you should consider the Department of Anthropology at The George Washington University. It has an undergraduate archaeology major and strong ties with the University's Department of Forensic Sciences."
---
Read FBI Profiling Classics on Kindle
---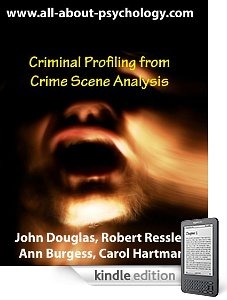 This special Kindle collection consists primarily of the landmark articles written by members of the Behavioral Science Units, National Center for the Analysis of Violent Crime, at the FBI Academy. These seminal publications in the history of FBI profiling were released by the U.S. Department of Justice as part of the information on serial killers provided by the FBI's Training Division.
See following link for full details.
---
Go Back To The Forensic Anthropology Page
Go From Forensic Anthropology Questions Back To The Home Page